Today I'd like to make a point about record grading, an essential instrument for trading records when both seller and buyer can't make it possible to be in the same place at the same time to make their deal.
Decades ago a record-collector magazine, Goldmine, installed their Goldmine record grading system wich has become the standard language in describing the condition of (particularly used) records. Discogs.com uses the same standards as nearly every experienced record person does – more or less. Only some little differences exist (as where you have an "EX" between  NM & VG+ or whether can put ++ or – behind the condition term or not) which dosen't make it easier … but that is fine adjusting of a more advanced level i don't feel the need to discuss here.
The term "mint" by the way is adapted from another gang of nerds, the coin collectors. For non-native english people: Mint is the place where coins are being pressed, not the herb (as i thought for a long time). The term means nothing but fresh out of the production.
A little listening lession concerning the grading system:
By the nature of capitalism the seller of a record always tends to describe his record very positive – while buyers on the other hand are often quite tight. A totally unplayed record almost for free is basically the secret buyers hope on every record-hunt, let's be honest.
So by nature it's often a difference of what arrived your mailbox and what you hoped to do so. The tradition of the seller up-polishing the describtion of the offered item is so old that the language of describing a record basically shifted out of space ever since. What is termed a "Good" record is hardly enjoyable if even playable, a "Very Good" piece of vinyl sounds most of the times quite bad and a "Very Good Plus" record is actually the lowest existing grade where you can expect a record that sounds: good. Record nerds are used to that language but most certainly it is nothing else but absurd.
Another factor of different grading is the listening equipment. It can be a huge difference to hear the same record on two different setups in general. According to the wear of a record it's maybe even more drastical. With a real bad equipment you might not hear too much of the whole recording at all, now less than ever the treble (where the pops, scratches and crackles are mainy located in the frequency spectrum). We have here: worn stylusses, portable kiddie turntables and supermarket stuff of the Crosley or Silvercrest league, damaged loudspeakers or bad headphones to listen, or simply a lot of dirt on the needle-tip and in the record grooves and no $1.00 spent on a simple micro fibre cloth to clean the record at least a bit.
On top of that there is an issue with the stylus shape. A variety of different shapes exist. Every stylus type contacts more or less at another region in the record groove. So, for example: if you have some surface scratches it might sound better with a more spiky cartridge type that dips deeper into the groove wile some dust and pressing remains down there might be more evident with the same thing. (More about the styus topic in general and especially for dj concerns here)
Another piont i wanted to make: There's an evident problem with the Goldmine / Discogs system. Sellers often do grade the visual state of the label and the record together as the condition of the record itself, especially when it comes to 45's. Although I'm a big fan of nice labeldesign, I prefer to listen to music instead of getting exited about how "minty" a recordlabel is. Especially 45's are claimed to be in a top contition because they look top. Maybe it might be much better to change the system of grading from: first record, than cover into: first sound, then sight! (cosmetic looks of the record all tgether with cover and any poster-gadgets or whatever else you lp freaks ever may expect in your record-foldout-envelopes)
We're all attracted by disaster stories, so here's one! To get a picture how this record grading can get way out sometimes (actually one of my top 3 of the worst  experiences in those nearly four decades of buying mail order records now)
This copy of "Jah Woosh – Love I Version" was sold on Discogs as a VG+ condition, wich claims: "Defects should be more of a cosmetic nature, not affecting the actual playback as a whole"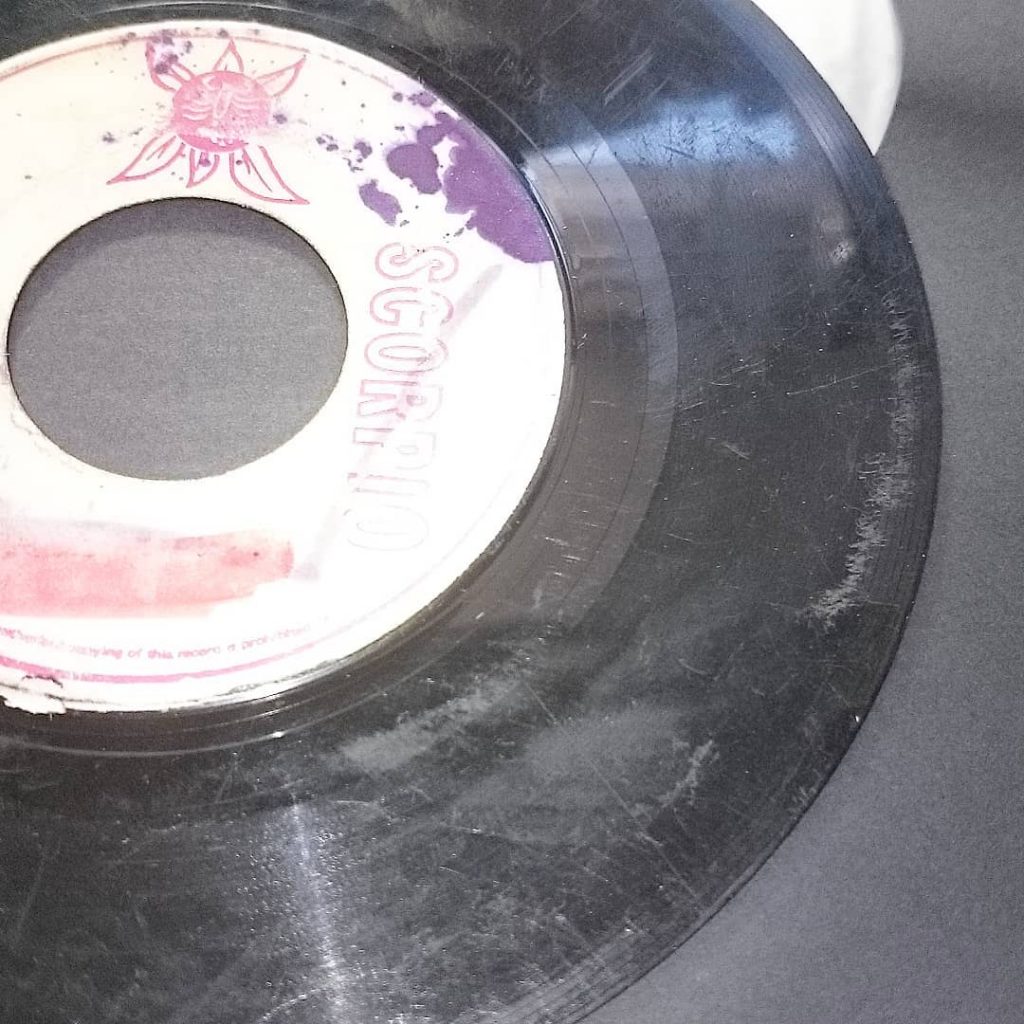 The pictured 45 was already cleaned with a vacuum record cleaning machine. Before It had a strange smeer in the grooves but the scratches certainly did remain. This is how it sounded freshly cleaned and played on decent equipment.
But enough sensation here. I think there's no way at all to really 100% standartize the grade of recordwear, but I think we all should make our efforts for keeping the standards as good as we can. It is a communication tool and I am not looking forward to the point where  a "Double Mint with three stars" record is the only piece of not totally rotten crap record you can buy.