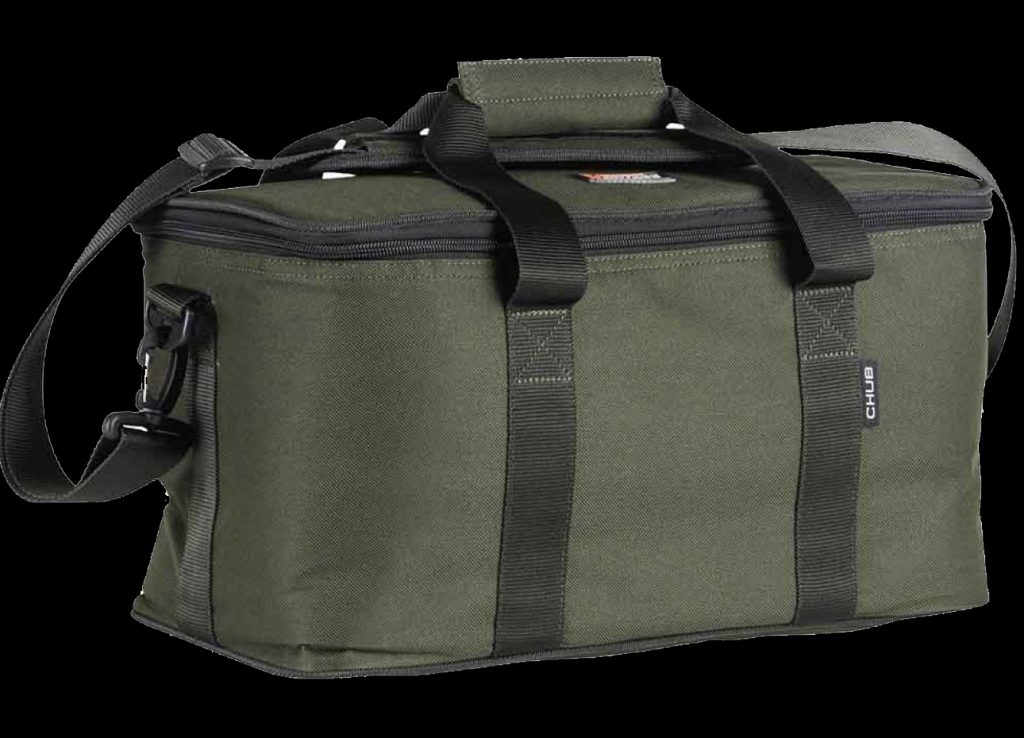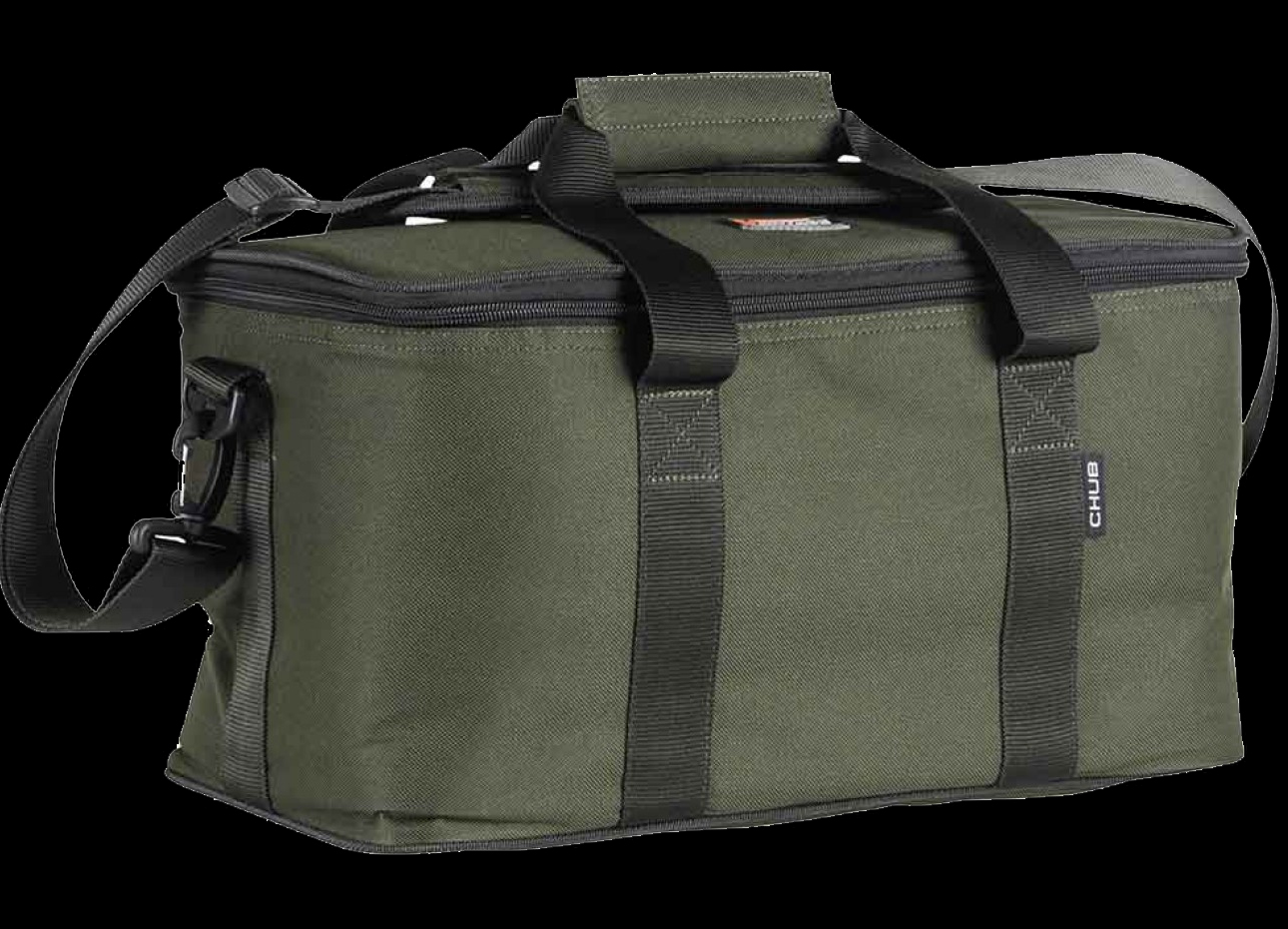 We've seen the Magma, Zomo, Rich Medina's Tucker & Bloom or Stones Throw / Tanner Goods 45 record bags and their brand-series variations and I like most of them a lot! Only Zomo's Ragga Bag was notorious for always getting stuck with all those outer pockets. The foam inlay was quite protective but made this bag very  chubby for the amount of records you actually could hold in it. Same with Magma's old Riot Bag model, plus this zipper that never really worked. Newer Magma (look out for the Dusty Donuts & 45Live editions!) are great! Inspired by the also great luxury Tucker & Bloom bag. No problems at all besides the fact that with all those 45 bags -as often with phono equipment- the price tags are (in my opinion at least) a bit high for what they really are in the end…
Looking for alternatives I checked some beauty cases and liked this one particularly… but, well: it was not helping a lot price-wise.
Then I found something else: Durable! Waterproof! Thermos insulated! Cheap! Fishing cooler bags that is. Those bags are made for outdoor use, made of heavy duty nylon and are more often than not water resistant. The aluminum thermos inner lining is to protect your carp (or 45's) from heat. Most of those bags are not stabilized and a bit sloppy. So what you need to stiffen the bag is  a bottom plate or -even better- plates on every wall to put inside and you have a perfectly working budget 45 bag.
My favorite material for that: Twin-wall medium soft plastic material as you can easily cut and fold it. You can build a 4-wall & bottom inlay just like that paper cube you probably had to do in grammar school! To find that material grab an expired election poster or buy one in a a crafts store, artists supply or architectural modeling store, … or  certainly on ebay (German here) too.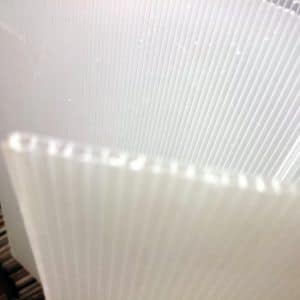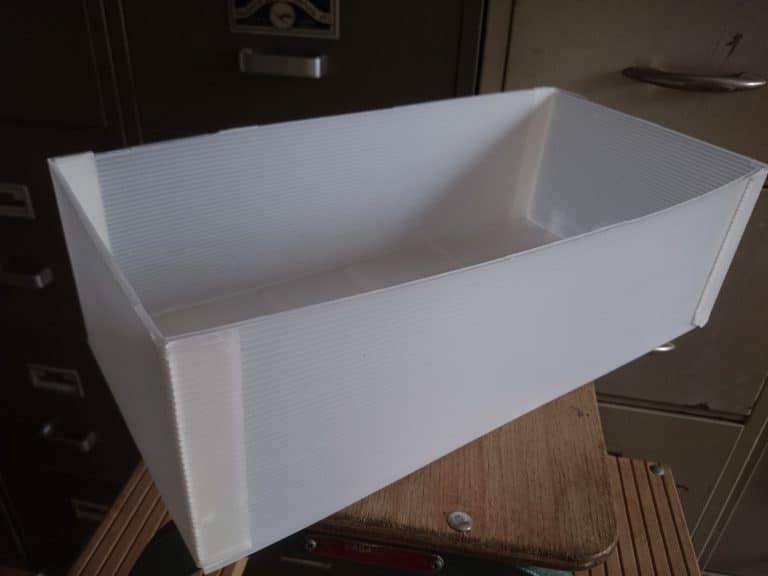 There's so many fishing bag models out there, so many different sizes and variations that you might wanna hunt for your own perfect bag. Watch out for getting one with zippers on the top edge (and not somewhere in the middle of the top) and take care that the measurements are minimum & best 20cm (8 inch) in height and with.
The one I championed in terms of size, stability and price was that one:
The Chub Vantage Coolstyle Bait Bag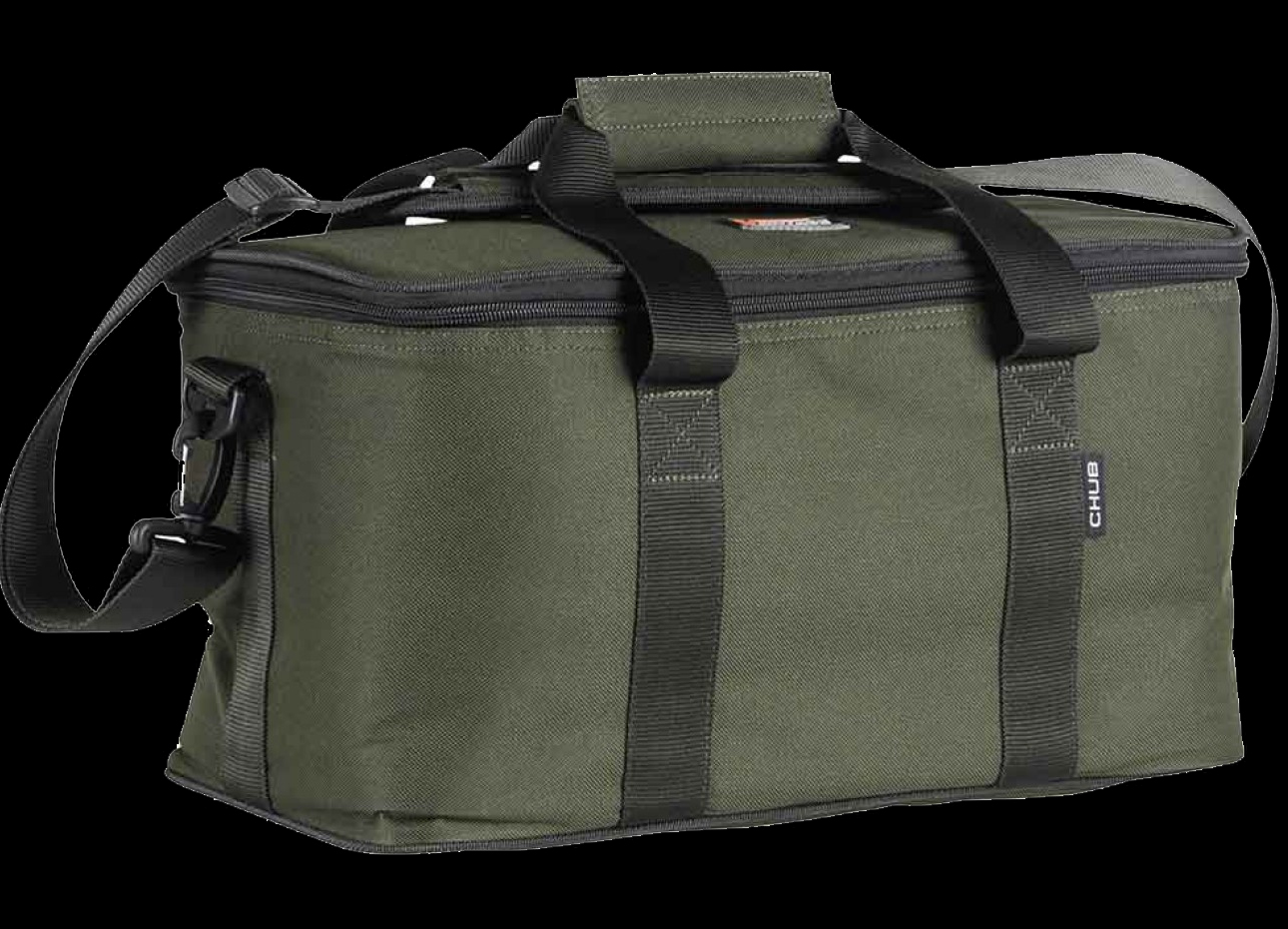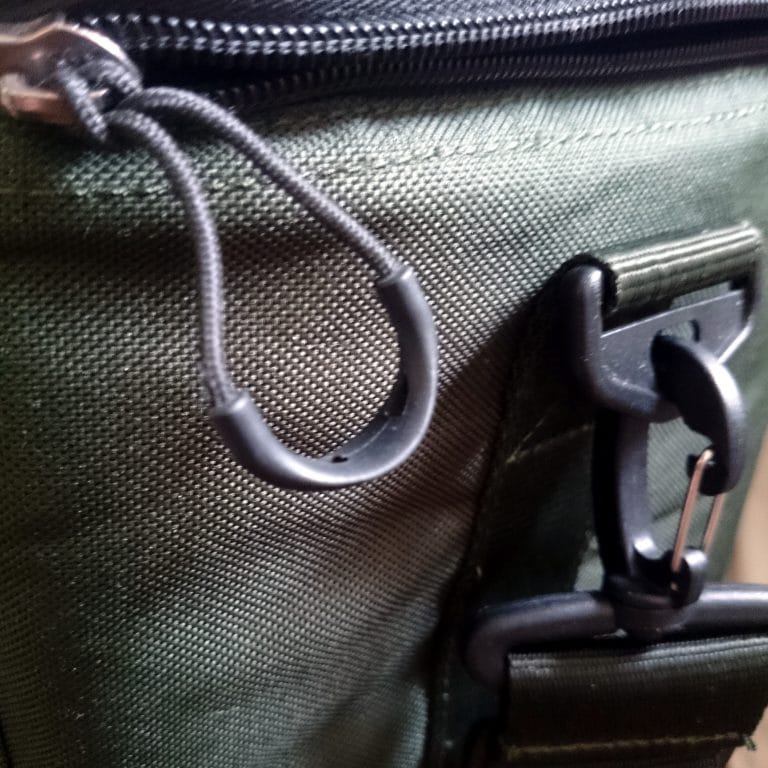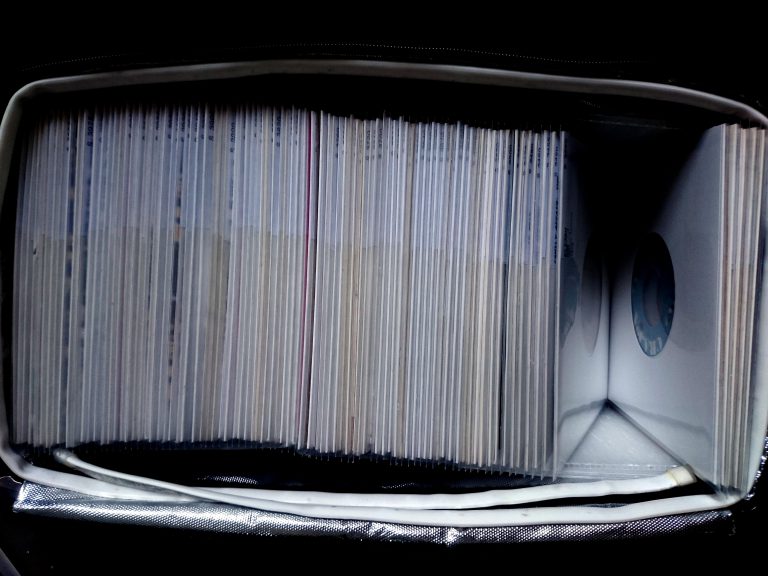 I am 100% happy with it! it's approx 10cm longer than the average dj bag and so more records fit in (40% more compared to a Magma Riot Bag for example).
Size 45cm x 21cm x 22cm / 17.7in x 8.2in x 8.6in

Weight empty: 1,0 kg / 2.2 pound

Weight full: approx. 9,3 kg / 20.5 pound

Holds max. 130 records fully armed in heavy duty cardboard sleeves along with poly-lined paper inner sleeves &  crystal outer sleeves / ca. 150-200 in blank paper sleeves

accepted as

cabin luggage

dimensions for most air-flight companies 
overall material, zippers, stitching, straps & hooks etc:

at least as solid or better than the  average brand-name DJ-bag.
Here's some pics with twin-wall inlay & led light (very handy in dark clubs) the AA battery case to run the lights is a plastic box that easily fits in somewhere outside that twin-wall stabilizer inner. Alternatively: a flat power bank with a USB-connected led…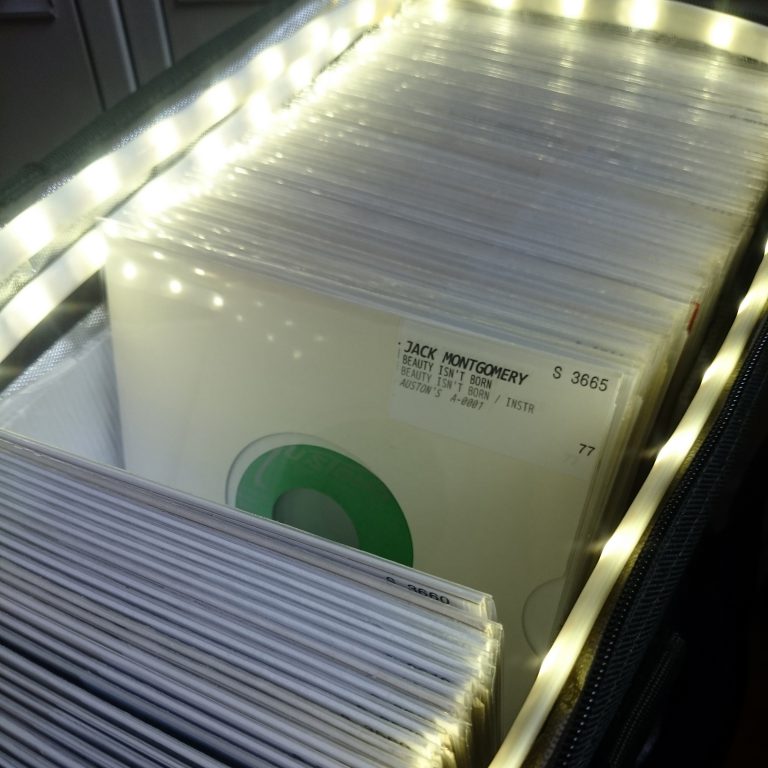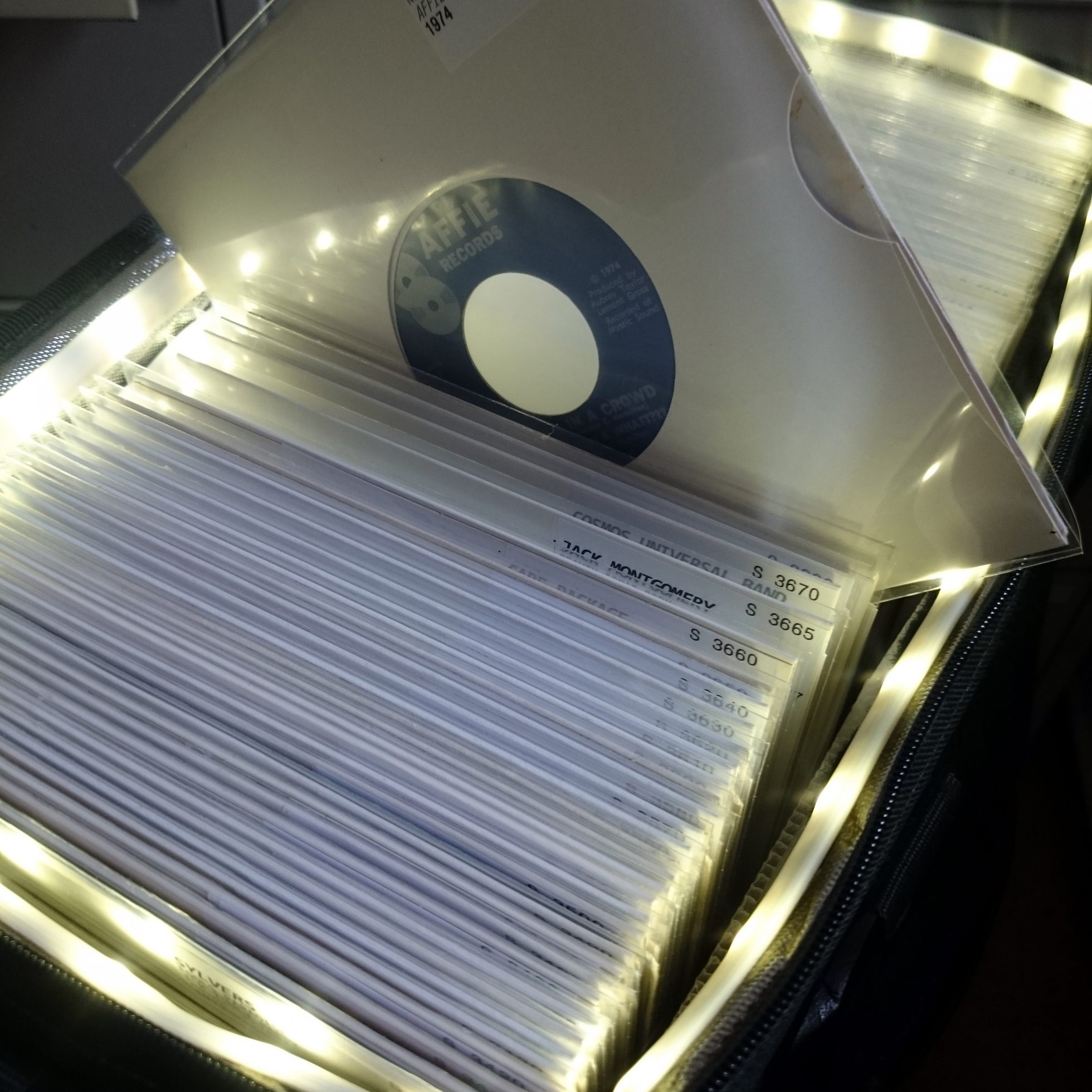 Whilst being totally happy with what I own I also  found this: The Jrc Defender Large Cooler Bag
(German Ebay link there, if somewhere else just copy the name and Google for wherever your region you are at)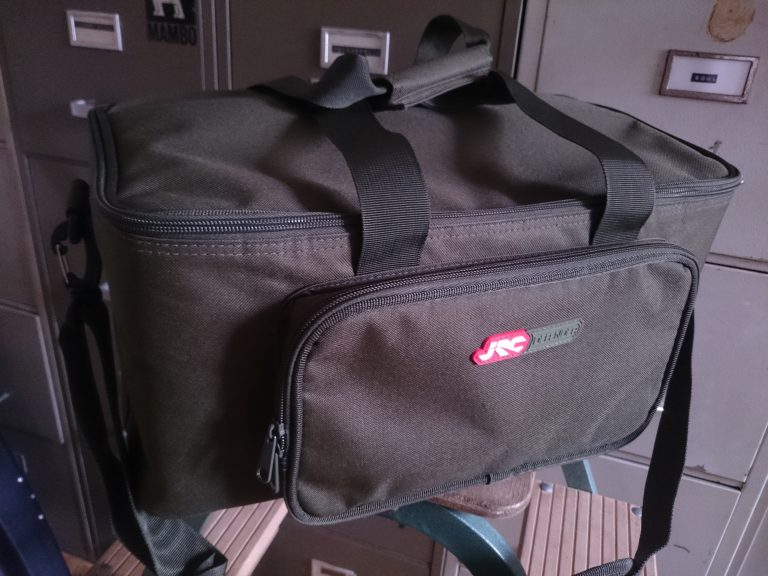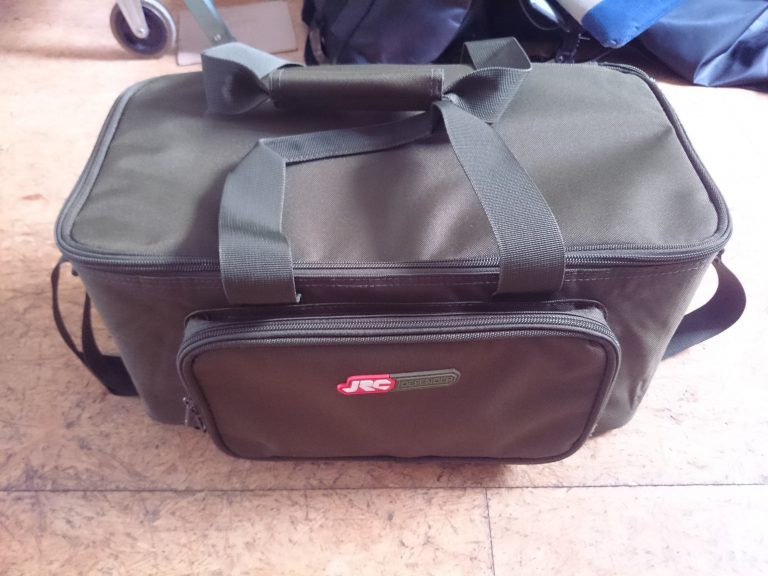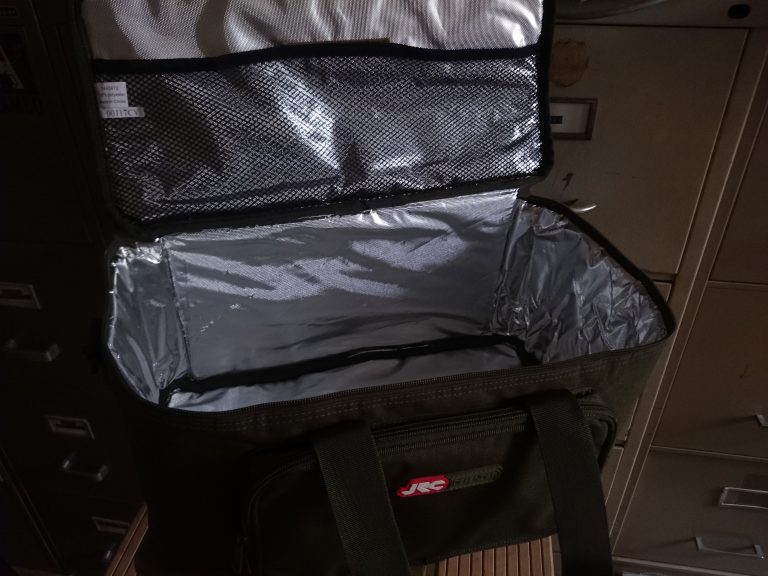 The same thing with a front pocket for headphones, styli and 45 adapters. Different brand name, supposedly same manufacturer, same dimensions, same solid quality too. I ordered one and am 100% happy with it. The front bag is not the largest but big enough for some adapters, maybe a flat stylus case (such as those Ortofon or Shure White Label cases) and / or a headset, I guess most with foldable / rotating ear-cups or a Sennheiser 25 will do but  for  really big beasts (like a Pioneer Pro or the big Audiotechnica) the pocket is too small.